Mixed Results Again from Carbon Disclosure Project's Supply Chain Report
More than 3000 Companies Respond to Survey, which Shows Progress, Stagnation and Slippage; Low Energy Costs and Lack of Regulation Among the Headwinds
The Carbon Disclosure Project (CDP) and partner consulting firm Accenture are back with their supply chain report for 2015, based on 2014 survey data.

The London-based CDP is a non-profit organization with a mission to reduce carbon emissions by companies worldwide, through documentation that details how much carbon a company or its suppliers is emitting.
The CDP supply chain study works like this: CDC member companies authorize the CDP to contact their suppliers and encourage them to complete a rather complex survey document on carbon emission levels and practices.
The numbers in the annual project keep growing. For this year's study, 66 CDP member corporations with $1.3 trillion in procurement spend had their suppliers surveyed, in a process in which generally the suppliers are highly encouraged to participate but without a firm requirement.

That process led to 3,396 supplier companies worldwide submitting responses, up from 2,868 in 2013, out of 6,503 total suppliers asked to complete the survey. That was a response rate of 52%, about the same as last year.
For the first time this year, the CDP and Accenture analyzed all this data at a national level to assess the relative climate risk faced by supply chains in 11 key markets.
As is almost always the case, the report finds that companies are not doing enough to reduce CO2 emissions in their supply chains. Accenture, for example, writes that "Despite the growing threat posed by climate change, the global response is falling short of what is needed. All the key metrics tracked in this year's supply chain program are either stagnant or only marginally improving."
It cites uncertain regulatory environments, volatile energy prices and economic challenges as key barriers to improvements, and says that "To respond, companies must expand their sustainability strategies to exploit digital technology."
What does that mean?
In short, it involves achieving much deeper electronic connectivity between large companies and their supply chain partners to gain greater CO2 visibility and speed response times.
Such digitization can provide intelligence that "can help companies identify carbon hotspots and water-related business risks in value chains. Plug-and-play access to talent and infrastructure, enabled by digital technologies, would help address these concerns at a scale and speed never seen before."
All of this discussion of course in the context of the UN climate talks scheduled for this December in Paris, for which countries have pledged to deliver an international agreement to replace the 1997 Kyoto Protocol – but what will actually come out of those meetings right now is anyone's guess.
Risk by Major Countries
As noted above, for the first time the report has analyzed the data at a country level for 11 of the world's biggest nations.
That led to the graphic below, which positions each country in one of four quadrants based on two dimensions: First, the climate risk faced by each country, as graphed on the Y-axis. This score is based upon research carried out by the United Nations University's Institute of Environment and Human Security, which provides an objective assessment of the environmental risk faced by each country. The assessment is based on the extent to which entities (population, conditions of built-up areas, infrastructure components, environmental areas) are exposed to the impacts of one or more natural hazards (earthquakes, cyclones, droughts, floods and sea level rise).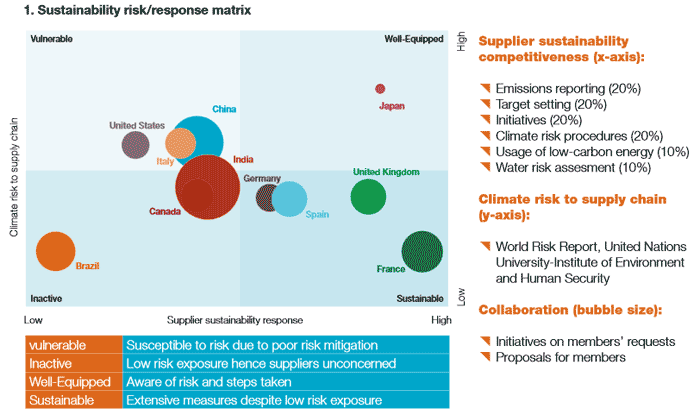 Source: Carbon Disclosure Project
Second, the level of preparedness of suppliers to meet the climate risks they face, as measured on the X-axis. The country positions are derived from the suppliers' average scores on the CDP survey for emissions reporting, target setting, emission reduction initiatives, climate risk procedures, uptake of low-carbon energy and water risk assessment.
Finally, the size of each bubble indicates the willingness for suppliers in that jurisdiction to collaborate with their value chain partners on emission reduction initiatives, again based on survey data.
As can be seen, Japan and a handful of European countries can be said to have scored well in this analysis – Japan in a sense penalized for being a country that just has a lot of climate-related risk according to the CDP, even if it is viewed as very well-prepared.
Meanwhile, the US, China, Canada and especially Brazil, along with some more Euro countries, are placed sort of in the bottom half of the rankings.
The report suggests companies need to think carefully about operations in countries which have a high level of climate risk.

Supplier Data is Again Mixed
Repeating a narrative seen really for the history of the CDP supply chain report, the data from suppliers presents a mixed picture.
On the positive side, for example, the percentage of suppliers setting emissions targets – a crucial and advanced component of climate risk management – is showing a steady upward trend. In 2014, 48% of suppliers set targets, up from 44% in 2013 and 39% in 2012.
The CDP also views as positive the percentage of suppliers reporting that their emission reduction initiatives are producing monetary savings, with 33% of suppliers globally reporting such monetary savings, up from 32% in 2013 and 29% in 2012.
The report cites as examples first German pharma giant Bayer, which has reported an investment of $5 million in process improvements that deliver annual reductions of 51,000 tonnes of carbon dioxide and $5.2 million in cost savings.
Meanwhile, Italian equipment maker CNH Industrial has reported $4.3 million in annual savings from a total of $12.4 million of energy efficiency and renewable energy investments that also reduce emissions by 12,437 tonnes per year.
However, there are certainly also indications of stagnation. For example, the report says "Of particular concern is a plateau in the percentage of suppliers disclosing emissions data. This year, 65% of suppliers reported scope 1 emissions – that is, those emissions from their own direct operations. That figure has dipped slightly, from 66% last year."
Similarly, the percentage of suppliers implementing procedures to tackle climate change also held steady at 62%, despite the increased number of respondents.
Another disappointment: The percentage of suppliers working with their value chain partners on CO2 has slipped this year. Just 50% of suppliers said they are engaging along the value chain in 2014, down from 56% in 2013.
As usual, the report is a lot to wade through, and we think this year spends too many pages on country by country analysis and recommendations, but we're used to a long report.
The report concludes that "Globally, the information we've collected shows progress in some areas, a plateauing in others and, in some metrics, a reversal of the progress seen in earlier years.
(Source: http://www.thegreensupplychain.com/NEWS/15-02-03-1.php?CID=8960)